Art painting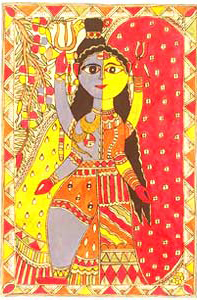 Art painting is tradition of antiquity in the land of India. Indians knew the art of painting since prehistoric times. The earliest paintings in India can be found on the walls of Bhimbetka caves in Madhya Pradesh. The next significant phase of Indian paintings in the ancient period can be seen in the frescoes from Ajanta depicting the life and style of that period realistically. The medieval period is remembered for the Persian styled miniature paintings introduced by the Mughals.
From the cave paintings of Bhimbetka to the contemporary artists lavishing abstract art in lines and colors, Indian art painting is a legacy in itself. Styles, themes, techniques and materials of painting vary with time and place. From ancient etching on cave walls to the wall paintings of rural India, from palm leaf painting to cloth painting, from intricate Miniature paintings to monochoramtic Warli paintings – the variety of India paintings is almost endless. Themes too range from religious to secular, portraying the various facets of Indian society, its beliefs, myths, religions, culture and evolution. Crafts in India has gathered some of the rarest gems of Indian Paintings. Exhibited online is an exclusive collection of Miniature paintings, Patachitra , Madhubani paintings , Warli paintings , Phad , Batik , Thangkas and much more. You can browse through these enthralling Indian works of art, cherish their beauty and buy them at your wish.
For Urgent Assistance : Email:query@craftsinindia.com
Painting
Explore the colors and images of incredible India at this rare online gallery of Indian Paintings, consisting magnificent Madhubani paintings, mysterious Warli paintings, Patachitras, Tribal Paintings, Thangka Paintings and also contemporary Indian art paintings.