Gift Jewelry for your Sister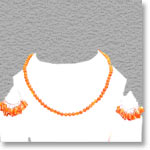 A unique gift jewelry can bring that rare and special smile on to the lips of your little sister - do you think anything can be more beautiful than this? The girl you grew up with and love the most - to see her happy, to glimpse at her priceless smile - its all possible with your love, care and small and beautiful jewelry. Surprises her with some beautiful Indian Jewelry! They say jewelry is a woman's best friend -it has that eternal attraction for women of all ages.
Crafts in India online store has a fascinating collection of handcrafted jewelry items best suited for your loved one.
Our Indian Jewelry store has got some of the most beautiful silver jewelry , including silver necklaces , silver bracelets , silver earrings, silver pendants , and jewelry sets as well. You can choose from an amazing variety of designs, colors and patterns - something for mothers of all ages, tastes and choices.Remind your sister how much she is loved and cared for, with an Indian jewelry item.
For Urgent Assistance : Email:query@craftsinindia.com
Painting
Explore the colors and images of incredible India at this rare online gallery of Indian Paintings, consisting magnificent Madhubani paintings, mysterious Warli paintings, Patachitras, Tribal Paintings, Thangka Paintings and also contemporary Indian art paintings.