Indian Paintings Online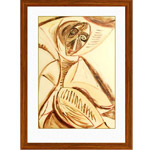 Buy Indian paintings online from the exclusive collection at Crafts in India. You can experience, explore and marvel at the diversity and richness of Indian paintings right at the click of your mouse. Rare gems of traditional and contemporary Indian paintings have been assembled from different parts of the Indian subcontinent. Rooted in antiquity, the variety and range of Indian painting is awe-inspiring.
Crafts in India has made an honest effort of showcasing this diversity of Indian paintings in all their beauty, finesse and vigor. Miniatures, Glass painting, Madhubani painting, Warli painting, Phad painting, Batik, Patachitra, and a host of other treasured forms of paintings are here for you to browse and collect.
In India, the artist is often referred as 'Yogi' - a creator engrossed in the act of his creative frenzy. He is hailed as a holy man and his creation is sacrosanct. Crafts in India reflects this philosophy, culture and thought of India as artifacts are collected directly from the artists, to ensure authentic paintings and affordability for our patrons and also due respect and benefits for the artists.
For Urgent Assistance : Email:query@craftsinindia.com
Painting
Explore the colors and images of incredible India at this rare online gallery of Indian Paintings, consisting magnificent Madhubani paintings, mysterious Warli paintings, Patachitras, Tribal Paintings, Thangka Paintings and also contemporary Indian art paintings.