Ardhnareshwar-Madhubani Painting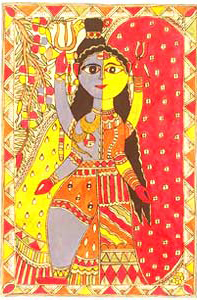 Dimensions : 21 x 14 Inches
This exclusive handmade piece of Madhubani painting depicts the mythical figure of Shiva in His 'Ardhanareshwar' avatar (incarnation). The 'Ardhanareshwar' avatar of Shiva is an epitome of duality. According to Indian Mythology, Shiva (the creator of the universes) merged himself with Parvati (the sustaining energy) in an eternal, inseparable bond. The two figures fused as one is known as 'Ardhanareshwar' or 'Half-man-half woman'. The icon of 'Ardhanareshwar' symbolises the union of 'Purush' (power) and 'Prakriti' (nature/creation), of masculine and feminine energies.
The 'Ardhanareshwar' figure is believed to confer family harmony, conjugal love and unison. Shiva's blue tinged body is merged with Parvati's yellow one. Bright natural colours have been used to add to the environment of conjugality and harmony. Enlarged eyes of the deity signify divine vision and the floral motifs combine divinity and nature together.
For Urgent Assistance : Email:query@craftsinindia.com
Painting
Explore the colors and images of incredible India at this rare online gallery of Indian Paintings, consisting magnificent Madhubani paintings, mysterious Warli paintings, Patachitras, Tribal Paintings, Thangka Paintings and also contemporary Indian art paintings.