Silver Beaded Jewelry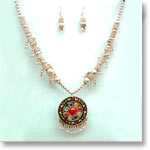 Handmade beaded jewelry in various designs and colors are cherished by one and all. Beads of different size, shape and material are woven by hand into fascinating designs and patters. Along with glass, clay, wood, and stones, silver is a much-loved material used in crafting beaded jewelry for man and woman and child.
Necklaces, rings, bracelets, earrings, anklets and other kinds of body jewelry are available in silver beads.
Crafts in India presents an amazing variety of gorgeous silver beaded jewelry crafted by skilled Indian artisans. Traditional ways amalgamated with contemporary fashion has given rise to this marvelous beaded jewelry in quality and sterling silver. Browse through Crafts in India to explore and obtain these collectible jewelry items.
For Urgent Assistance : Email:query@craftsinindia.com
Painting
Explore the colors and images of incredible India at this rare online gallery of Indian Paintings, consisting magnificent Madhubani paintings, mysterious Warli paintings, Patachitras, Tribal Paintings, Thangka Paintings and also contemporary Indian art paintings.