Famous Indian Painting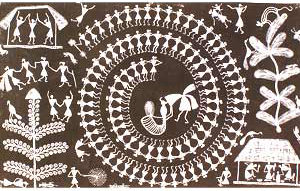 Indian paintings thoroughly researched and gathered from the far and wide corners of the country, these paintings are the repositories of Indian culture and artistic heritage. Traditional Indian painting is as old and varied as the land itself. Indians knew the art of painting since prehistoric times.The medieval period is remembered for the Persian styled miniature paintings introduced by the Mughals.
Not only were Mughal miniatures great masterpieces, they also influenced local miniature schools in Rajasthan, Punjab and Himachal Pradesh.
From the cave paintings of Bhimbetka to the contemporary artists lavishing abstract art in lines and colors, Indian painting is a legacy in itself. Styles, themes, techniques and materials of painting vary with time and place. Themes too range from religious to secular, portraying the various facets of Indian society, its beliefs, myths, religions, culture and evolution. Famous Indian paintings like Miniature paintings, Glass painting , Madhubani paintings , Warli paintings , Phad painting , Batik , Patachitra , and a host of other treasured forms are on show at Crafts in India.
For Urgent Assistance : Email:query@craftsinindia.com
Painting
Explore the colors and images of incredible India at this rare online gallery of Indian Paintings, consisting magnificent Madhubani paintings, mysterious Warli paintings, Patachitras, Tribal Paintings, Thangka Paintings and also contemporary Indian art paintings.