Bed Spread Catalogue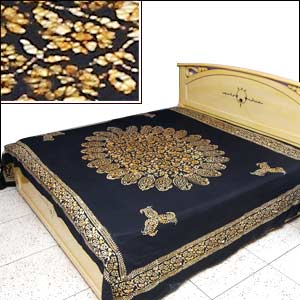 The bed spread catalog of Crafts in India has an amazing variety of handmade bed spreads. At the end of a busy day you seek to lie on a bed that looks beautiful and feels comfortable. Our bed spread catalogue will give you just what you are looking for - comfort, beauty, durability and affordability. All our bedspreads are handmade by Indian artisans, whose craft is inherited from ancestry, and imagination is a gift. There are bed spreads made from a variety of materials,

with exotic designs and impressive colors. They are unique in beauty and fine in quality. We have an excellent collection of cotton bed spreads, quilted bed spreads, appliqué work bedspreads, block printed tropical bedspreads, batik bed spreads, patchwork bed spreads and many more. You can browse the bed spread catalog online, experience the beautiful items and collect them at your wish. The collection has been organized so as to suit your lifestyle. Create an enchanting ambience with our colorful bedspreads that add interest and flair to a space. Crafts in India assures not only quality products, but also excellent customer service. Let it be a treasured memory - reach us at our Online Customer Care Chat for all your queries and suggestions.
For Urgent Assistance : Email:query@craftsinindia.com
Painting
Explore the colors and images of incredible India at this rare online gallery of Indian Paintings, consisting magnificent Madhubani paintings, mysterious Warli paintings, Patachitras, Tribal Paintings, Thangka Paintings and also contemporary Indian art paintings.