Toy Doll House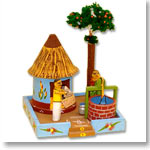 Crafts in India has an impressive collection of copper sculptures.A toy doll house is a child's dream come true. Playing with a toy doll house, a child mirrors the world around her. She play Mummy and sings lullabies for her baby dolls. She sees her father figure in the men toys and also has a pet to care for. From time immemorial, children have loved playing with their toys and dolls, and a special favorite has always been toys doll houses that fulfilled
their desire of having a happy family and having a complete control over the same. Previously toy doll houses were crafted by men with clay, wood and other natural materials. .
Even today, these traditional doll houses are collected for play or display. However, the modern day toy doll houses have almost replaced the older and simpler doll houses. As society has continuously moved towards urban civilization, dollhouses have become more sophisticated and mostly animate the contemporary urban household of unit families. Mostly they are made of plastic and have a multi-storeyed structure, complete with all the modern day home appliances, a baby and a dog. Toy doll house also have matching accessories and clothing. You can buy these toy doll houses online and select from a variety of models and looks. If you are looking for some traditional toys and dolls in clay or wood, for play or decorative purposes, then you are welcome to visit Crafts in India and browse through its section on toys and dolls. See, enjoy and collect these handmade toys and dolls at your wish.
For Urgent Assistance : Email:query@craftsinindia.com
Painting
Explore the colors and images of incredible India at this rare online gallery of Indian Paintings, consisting magnificent Madhubani paintings, mysterious Warli paintings, Patachitras, Tribal Paintings, Thangka Paintings and also contemporary Indian art paintings.