Ganesha Glass Paintings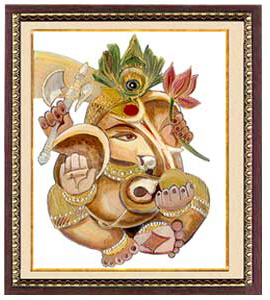 Dimensions : 19.5 x 15 x 1.5 Inches
Mayur Ganesha is a part of Harmeen Kaur's exquisite painting studio. This designer piece of art measures L=19.5, B=15, H=1.5 inches. The subtle shades of earthy colors bring out the perfect hue of sanctity. Limited stock available.
For Urgent Assistance : Email:query@craftsinindia.com
Painting
Explore the colors and images of incredible India at this rare online gallery of Indian Paintings, consisting magnificent Madhubani paintings, mysterious Warli paintings, Patachitras, Tribal Paintings, Thangka Paintings and also contemporary Indian art paintings.