Ganesha Batik Painting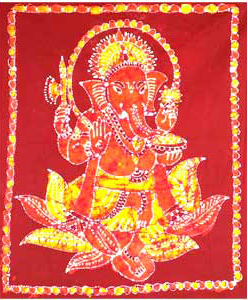 Dimensions : 36 x 29 Inches
Handpainted on a maroon cotton base, is the figure of Ganesha. Plump and ornate, this elephant headed Indian deity symbolizes success, prosperity and knowledge. Like every other piece of traditional Indian art, this Batik painting too, endeavors to capture the infinite divine essence within its artistic confines. The bejeweled figure of Ganesha on a lotus aptly fulfils this function in blending artistic finery with heavenly grace. The cracked batik painting has been decorated further with a colorful fringe.
For Urgent Assistance : Email:query@craftsinindia.com
Painting
Explore the colors and images of incredible India at this rare online gallery of Indian Paintings, consisting magnificent Madhubani paintings, mysterious Warli paintings, Patachitras, Tribal Paintings, Thangka Paintings and also contemporary Indian art paintings.