Golden Brown Kundan Bangle Set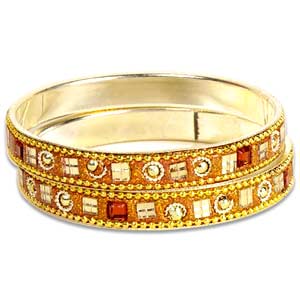 Dimensions : 0 Inches
Golden brown in color, this set of two lac bangles is distinguished by the intricate kundan work. For ages, Indian jewelers have deftly carved metal and lac and beautified them with stones. The art of kundan work finds an apt expression in this set of handmade bangles.
For Urgent Assistance : Email:query@craftsinindia.com
Painting
Explore the colors and images of incredible India at this rare online gallery of Indian Paintings, consisting magnificent Madhubani paintings, mysterious Warli paintings, Patachitras, Tribal Paintings, Thangka Paintings and also contemporary Indian art paintings.