Orange Wooden Coasters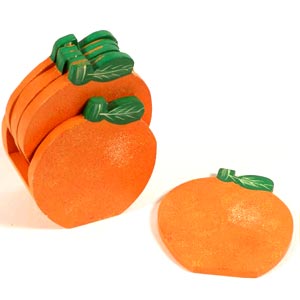 Dimension: 4 x 3.5 Inches
A set of four orange coasters hand carved from wood is on display. Perfect molds and matching colors make them an attractive addition to your coffee table décor. They rest in a matching box.
For Urgent Assistance : Email:query@craftsinindia.com
Painting
Explore the colors and images of incredible India at this rare online gallery of Indian Paintings, consisting magnificent Madhubani paintings, mysterious Warli paintings, Patachitras, Tribal Paintings, Thangka Paintings and also contemporary Indian art paintings.