Sheer Joy-Warli Painting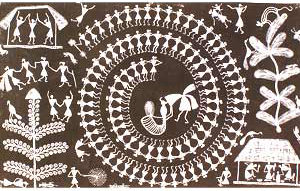 Dimensions : 17 x 27 Inches
Traditional Indian tribal life has its own natural rhythm and motion. Fused with the moods and whimsies of nature are the lives of these ancient people. Men, women, animals, birds, trees and the whole of this world are conjoined together in a harmonious and eternal celebration called 'Life'. The sheer joy of living each and every moment is aptly conveyed by this object d'art from Warli, India. Renowned as Warli Painting, this form of tribal art uses a single colour, white, on earthen background. Basic geometric forms and primal designs, dots and patches are used to convey the profoundest philosophy
in the simplest form. In this painting, men and women alternate in a spiral formation and dance without turning their backs to the persons playing the musical instrument. The person at the centre of the spiral formation plays a native musical instrument and is the most prominent of all the figures. With his harmony and rhythm, that spreads and mesmerizes the complete space, he seems to be the creator and controller of all life around. The joyous celebrations are also visible in the fireworks and various feast preparations. The humble huts are dribbling with happy men and women. Even the animal world is a party to it all. Transcending the barriers of time and place, this Warli painting portrays eternal life in its universal form.
For Urgent Assistance : Email:query@craftsinindia.com
Painting
Explore the colors and images of incredible India at this rare online gallery of Indian Paintings, consisting magnificent Madhubani paintings, mysterious Warli paintings, Patachitras, Tribal Paintings, Thangka Paintings and also contemporary Indian art paintings.