Beauty of Kutch-Jute Rug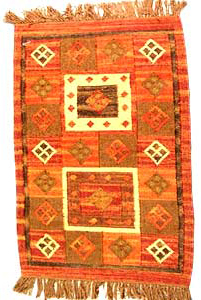 Dimensions : 54 x 30 Inches
The hand knit rug in mixed fabric of cotton-jute stands out for its sheer elegance. Crafted by the artisan of Kutchh in Gujarat, a state in western India, it is executed in traditional style and pattern. The abundant use of red-brown earthen hues in its color scheme giving the illusion of patchwork, it celebrates the vibrancy and the finesse of the rich craft traditions of India.
For Urgent Assistance : Email:query@craftsinindia.com
Painting
Explore the colors and images of incredible India at this rare online gallery of Indian Paintings, consisting magnificent Madhubani paintings, mysterious Warli paintings, Patachitras, Tribal Paintings, Thangka Paintings and also contemporary Indian art paintings.