Blue- Yellow Lamp Shade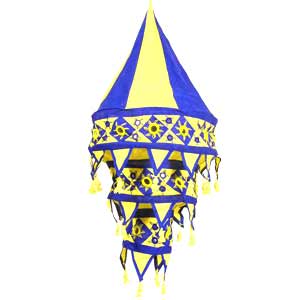 Dimension: 24 x13.5 Inches
This handmade fabric lampshade comes from the skilled appliqué artists of Orissa, in India. Alternate colors of bright blue and yellow beautify the three rows of the hanging lampshade. Floral patterns in threadwork along with glittering mirrors enhance its splendor. This appliqué work lampshade scatters soft dreamy light and decorates the interiors in a charming manner.
For Urgent Assistance : Email:query@craftsinindia.com
Painting
Explore the colors and images of incredible India at this rare online gallery of Indian Paintings, consisting magnificent Madhubani paintings, mysterious Warli paintings, Patachitras, Tribal Paintings, Thangka Paintings and also contemporary Indian art paintings.