Pearl Lakh Bangle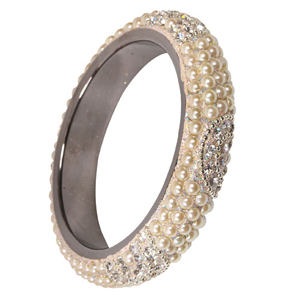 Dimension:

This bangle also called Moti Chand Kada is worn in the wrist of one hand. You will find profusion of lakh (lacquer) in this masterpiece. There are plenty of dazzling white pearls studded on the surface of this bangle which have been colorfully decorated with beautiful patterns on different places. The innermost part of the bangle is made of metal soothing to the skin. The size of the showcased bangle is 2.6. The width of this bangle is rather more than other bangles, which makes it fitting comfortably in the wrist.

For Urgent Assistance : Email:query@craftsinindia.com
Painting
Explore the colors and images of incredible India at this rare online gallery of Indian Paintings, consisting magnificent Madhubani paintings, mysterious Warli paintings, Patachitras, Tribal Paintings, Thangka Paintings and also contemporary Indian art paintings.