Kundan Firoza Earrings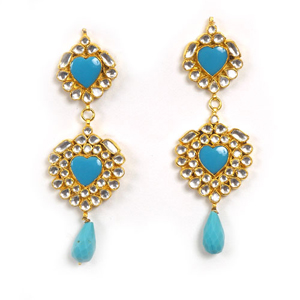 Dimension:

These enamoring earrings are perfect pieces of intricate Kundan work. Tiny stones of artistically cut kundan are embedded in an elegant pattern on the surface. The most fascinating feature of these earrings is the engrafting of Firoza stone on two separate parts. The drop danglings of similar color pattern complete the beautification.

For Urgent Assistance : Email:query@craftsinindia.com
Painting
Explore the colors and images of incredible India at this rare online gallery of Indian Paintings, consisting magnificent Madhubani paintings, mysterious Warli paintings, Patachitras, Tribal Paintings, Thangka Paintings and also contemporary Indian art paintings.