Blue Sparkle Lacquer Earrings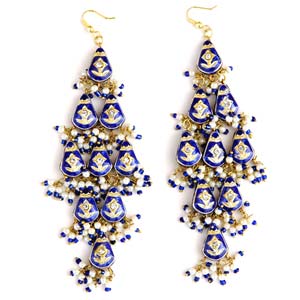 Dimension: 3 Inches
This lacquer product is an amazing piece of handicraft. Earrings made in blue color with the string of blue and white beads exhibits a complete blue sparkling world.1-2-3 pattern of decorated lacquer blocks make it a sublime piece of jewelry.

For Urgent Assistance : Email:query@craftsinindia.com
Painting
Explore the colors and images of incredible India at this rare online gallery of Indian Paintings, consisting magnificent Madhubani paintings, mysterious Warli paintings, Patachitras, Tribal Paintings, Thangka Paintings and also contemporary Indian art paintings.