Radha Krishna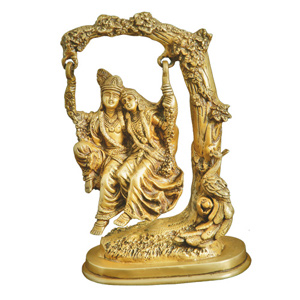 Dimensions : 11 x 7 Inches
In the showcased statue, Radha and Krishna, the eternal lovers are making merriments sitting on a swing. The brass representation of swing and the branch of a tree from where the swing is attached are maneuvered skillfully. The craftsmen have done a wonderful work in this image by depicting intricately the details of the jewels and other ornamentations of the figure. The peacock clinging to the bottom of the kadamb tree is also deftly crafted. The image is held in a perfect standing position by the base attached. The swing is in running condition giving the image a natural shade.
For Urgent Assistance : Email:query@craftsinindia.com
Painting
Explore the colors and images of incredible India at this rare online gallery of Indian Paintings, consisting magnificent Madhubani paintings, mysterious Warli paintings, Patachitras, Tribal Paintings, Thangka Paintings and also contemporary Indian art paintings.