Girl Brass Statue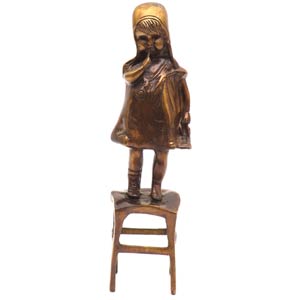 Dimensions : 11 x 4 x 4 Inches
This beautiful statue of a little girl in brass is a perfect thing to gift your lovely daughter. Little girl standing on the stool has a picturesque look and craftsman has produced a masterpiece in this form.Crafts in India tries to serve you the best with this kind of rare master art.
For Urgent Assistance : Email:query@craftsinindia.com
Painting
Explore the colors and images of incredible India at this rare online gallery of Indian Paintings, consisting magnificent Madhubani paintings, mysterious Warli paintings, Patachitras, Tribal Paintings, Thangka Paintings and also contemporary Indian art paintings.