Carpets and Rugs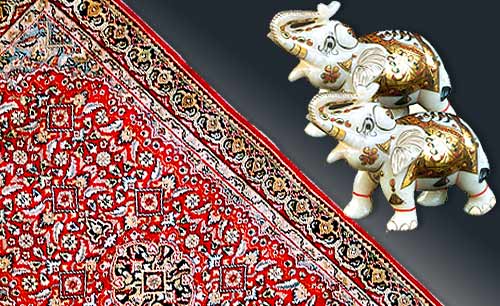 Buy a
woolen carpet worth US $ 462 and get a decorative marble elephant set worth US$ 48 absolutely free!
Handmade Woolen Carpet
This hand-knotted carpet in a red body and Persian patterns is a must for your living room. It is made out of best quality wool mixed with silk yarn, and has 225 knots per square inch. The beauty and elegance of this carpet would speak volumes about your fine aesthetic senses. Now, can you wait to hear the compliments?
Decorative Marble Elephants
This set of two charming marble elephants, both four inches tall, have dense gold and kundan work, depicting what would traditionally be the embroidered cloth on the elephant's backs. Their raised trunks signify growth and prosperity. Paired with the beautiful carpet, this decorative set will redefine your living room.
For Urgent Assistance : Email:query@craftsinindia.com
Painting
Explore the colors and images of incredible India at this rare online gallery of Indian Paintings, consisting magnificent Madhubani paintings, mysterious Warli paintings, Patachitras, Tribal Paintings, Thangka Paintings and also contemporary Indian art paintings.