Silver Pendant Amethyst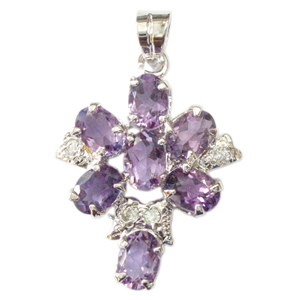 Dimensions : Inches
This beautifully designed silver pendant is a novel handcrafted jewelry. You can notice the embedding of fascinating amethysts in a flower like pattern. Tiny zircons are accentuating the beauty to manifolds. Flaunt this spectacular jewelry and let the whole world get jealous of you.
For Urgent Assistance : Email:query@craftsinindia.com
Painting
Explore the colors and images of incredible India at this rare online gallery of Indian Paintings, consisting magnificent Madhubani paintings, mysterious Warli paintings, Patachitras, Tribal Paintings, Thangka Paintings and also contemporary Indian art paintings.