Hanuman: Miniature Painting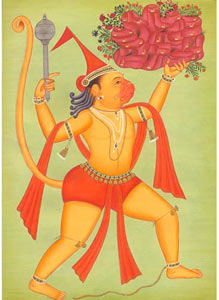 Dimensions : 14 x 10 Inches
This handmade miniature painting belonging to the Raghogarh style depicts Hanuman carrying Sanjivani Mountain. The highly powerful image of the Rambhakta Hanuman is a beautiful depiction of the brave act by the monkey deity. Hanuman, one of the most powerful deities of the Hindu pantheon, is associated with might, strength, heroism and unwavering devotion. Here Hanuman is shown as carrying the mountain with the Sanjivani herb to revive the fatally wounded Lakshmana. He carries the mace in one hand and the mountain in the other.
The stylized rocks of the mountain are typical of the Raghogarh School. His long tail seems to balance the weight of the mountain. Dresses wearing red drawers and a belt of golden bells, Hanuman is shown performing this courageous task with utmost ease.
For Urgent Assistance : Email:query@craftsinindia.com
Painting
Explore the colors and images of incredible India at this rare online gallery of Indian Paintings, consisting magnificent Madhubani paintings, mysterious Warli paintings, Patachitras, Tribal Paintings, Thangka Paintings and also contemporary Indian art paintings.