Hunting Expedition-Miniature Painting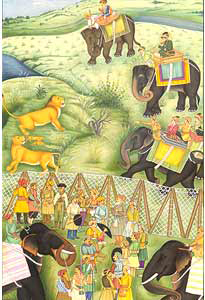 Dimensions : 12.5 x 8.5 Inches
The handmade painting illustrates the scene where the Mughal Emperor Shah Jahan is shown on a hunting expedition.
The story goes that several lions were spotted in a hunting ground and were reported to Shah Jahan. The emperor ordered that lions should be enclosed in a strong net called badar. The lions were then driven to the Zaynabad garden where the emperor mounted on an elephant and shot a lion with his gun.
For Urgent Assistance : Email:query@craftsinindia.com
Painting
Explore the colors and images of incredible India at this rare online gallery of Indian Paintings, consisting magnificent Madhubani paintings, mysterious Warli paintings, Patachitras, Tribal Paintings, Thangka Paintings and also contemporary Indian art paintings.