Dancing Doll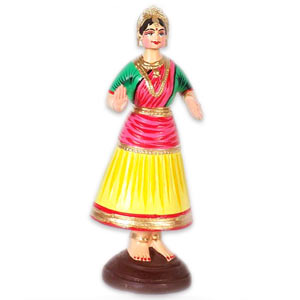 Dimensions : 11 X 5 Inches
This dancing doll from Andhra Pradesh, India, animates a Kuchipudi Dancer. Sculpted with clay, this traditional Indian doll actually dances and shakes its head rhythmically. For ages, it has been a favourite of every Indian child and now it is ready to cross oceans, adding glory and gifting giggles to millions abroad.
For Urgent Assistance : Email:query@craftsinindia.com
Painting
Explore the colors and images of incredible India at this rare online gallery of Indian Paintings, consisting magnificent Madhubani paintings, mysterious Warli paintings, Patachitras, Tribal Paintings, Thangka Paintings and also contemporary Indian art paintings.