Blue Beaded Accessory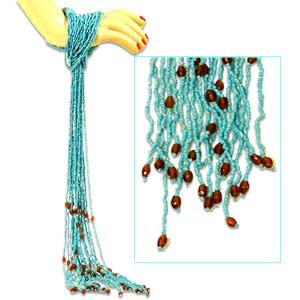 Dimensions : 58 Inches
This handmade beaded accessory has several strings of blue beads styled by three rows of black decorative beads at each end. Blue is a calming cool color, but worn around your shapely waist or wrapped around your arms – this blue beaded accessory is going make a sizzling fashion statement.
For Urgent Assistance : Email:query@craftsinindia.com
Painting
Explore the colors and images of incredible India at this rare online gallery of Indian Paintings, consisting magnificent Madhubani paintings, mysterious Warli paintings, Patachitras, Tribal Paintings, Thangka Paintings and also contemporary Indian art paintings.