Green Mirrorwork Lac Bangles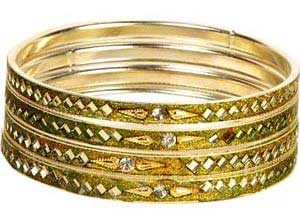 Dimension: 0 Inches
The artistic fingers of the Rajasthani craftsman have fashioned this beautiful set of kundan bangles. Made of lacquer, they have a soothing green color and decorative patterns of mirror work.
For Urgent Assistance : Email:query@craftsinindia.com
Painting
Explore the colors and images of incredible India at this rare online gallery of Indian Paintings, consisting magnificent Madhubani paintings, mysterious Warli paintings, Patachitras, Tribal Paintings, Thangka Paintings and also contemporary Indian art paintings.