Designer Red Batik Bed Spread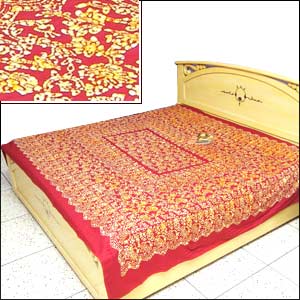 Dimension: 101 x 80 Inches
This handmade pure cotton bed spread has beautiful batik painting. Vibrant red in color, this bedspread has ornate batik patterns all over the body. Quality material and traditional batik art assures of durability along with a rare aesthetic beauty.

For Urgent Assistance : Email:query@craftsinindia.com
Painting
Explore the colors and images of incredible India at this rare online gallery of Indian Paintings, consisting magnificent Madhubani paintings, mysterious Warli paintings, Patachitras, Tribal Paintings, Thangka Paintings and also contemporary Indian art paintings.