Women drawing water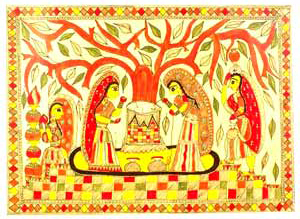 Dimension: 30 x 22 Inches
Madhubani Painting is a spontaneous expression of the women of Bihar, India. From being a part of the daily rituals of rural Indian life, it has evolved as a venerated folk art form. This folk painting style plays with colours and lines depicting mythological figures and glimpses of the world from a feminine point of view. In this piece of Madhubani painting on handmade paper, a group of women are seen drawing water from the village well. The very theme of the painting indicates the domestic origin of this famous art form. In rural India, women go all the distance to the community well,

at times walking for miles, to get water. This is not only a daily household duty for them, but also a point of respite. Away from the confines of the four walls, they are free, at least for some time, to be themselves and have their own time. This is an exclusively feminine time. The typical expressions of joy and feminine observation have been articulated through the details and colours of this painting. Earthen colours of red, yellow, orange, brown and black brighten the bejewelled figures in profile. Humble wares of the world of women like the pots and pitchers have been drawn in detail. Auspicious symbols like the Swastik are seen etched on the pitchers. A single tree gives shade and shelter to the rural beauties. Conventional use of the double border has been made along with simple geometric patterns. In a word, this handmade painting is a celebration of joy and expression of womanhood.
For Urgent Assistance : Email:query@craftsinindia.com
Painting
Explore the colors and images of incredible India at this rare online gallery of Indian Paintings, consisting magnificent Madhubani paintings, mysterious Warli paintings, Patachitras, Tribal Paintings, Thangka Paintings and also contemporary Indian art paintings.