Decorative Bird Toy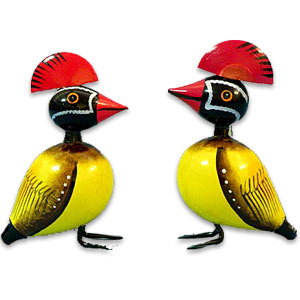 Dimension: 1 x 3 Inches
A beautiful set of wooden bird toys, hand crafted by the traditional artists of Andhra Pradesh, India. These two birds with beautiful yellow bodies have vibrant red beaks and plumes. When your little girl is not playing with these toy birds, they can be well used as home décor items.
For Urgent Assistance : Email:query@craftsinindia.com
Painting
Explore the colors and images of incredible India at this rare online gallery of Indian Paintings, consisting magnificent Madhubani paintings, mysterious Warli paintings, Patachitras, Tribal Paintings, Thangka Paintings and also contemporary Indian art paintings.