Wooden Elephants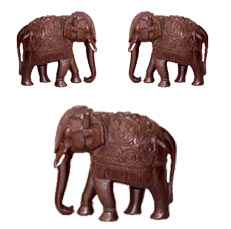 Dimensions : Biggest 9 x 7 x 4; Medium 7 x 6 x 3; Smallest 6 x Inches
These three wooden elephants, carved from seasoned mango wood and polished to a dark cherry colour, come together as a complete set. The carving on the three elephants of different sizes, shows what would traditionally be a cloth on the elephant's back and the decorations on each elephant. The fine carving depicts floral designs and the forehead ornaments on each elephant. The symmetrical proportions of the wooden elephants and the workmanship of their eyes and tusks, reveal the
attention to detail and skill of the craftsmen from Saharanpur.
Elephants are revered as symbols of power and intelligence. This carved wooden set of three elephants will make an ideal gift for someone fond of animals or add to the ambience of your room.
For Urgent Assistance : Email:query@craftsinindia.com
Painting
Explore the colors and images of incredible India at this rare online gallery of Indian Paintings, consisting magnificent Madhubani paintings, mysterious Warli paintings, Patachitras, Tribal Paintings, Thangka Paintings and also contemporary Indian art paintings.