Hanuman and Garud Hanging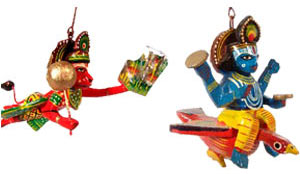 Dimensions : 3 , 3 Inches
It is said that Hinduism is more a way of life than an organised religion. It is a living culture that thrives in the everyday practice and rituals of life. Mingling the modern with the traditional, it pervades even the life of the urban atheist. While driving a brand new car, he might sport an ethnic Indian wooden doll depicting the legendary figure of Hanuman or Vishnu.
Meticulously carved and brightly painted, one of the handcrafted hanging dolls shows the mighty Hanuman carrying the Gandha Madana Parvat to save Laxman's
(Ram's brother in the Indian epic of Ramayana) life with the medicinal herbs known as Mritasanjivani. Red being the colour of vibrancy and power shows Hanuman's valour and the golden mace is his ace weapon.
The wooden figure of Vishnu, the fêted Indian deity, is the marvellous creation of the artisans of Varanasi in Uttar Pradesh, India. Vishnu, the supreme god of the Hindus and the most prominent figure of the trinity, is seen here riding Garuda, his Vahana (Vehicle). Garuda is regarded as the king of birds and is worshipped along with Vishnu. This traditionally edged figure is endowed with emblematic colours. Vishnu is blue hued and Garuda is red.
These traditional Indian dolls, artily presented as modern day car hangings, definitely make 'India' a way of life.
For Urgent Assistance : Email:query@craftsinindia.com
Painting
Explore the colors and images of incredible India at this rare online gallery of Indian Paintings, consisting magnificent Madhubani paintings, mysterious Warli paintings, Patachitras, Tribal Paintings, Thangka Paintings and also contemporary Indian art paintings.