Folk Art Paintings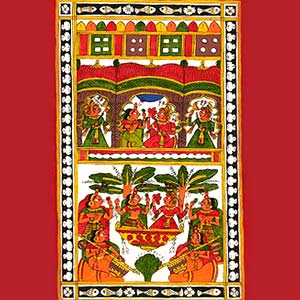 Folk art on cloth-Phad Painting
Dimension: 20x12 inches
Folk art paintings are an artist's expressions in pictorial form and usually choose epic narratives from the Ramayana, Mahabharata, Puranas and so on. These also depict the daily village life, social customs, rituals, birds, animals and the elements of nature and earth. Folk paintings use very vibrant and natural colours and papers, clothes, leaves, earthen pots, mud walls, etc are used as canvas.
The Indian folk paintings, their styles and patterns are as diverse as the Indian nation itself.
The Indian folk art list includes wall paintings, calendar paintings, oil classics, cave paintings, miniatures etc Our site is the unique online destination where all the art lovers can browse every kind of Indian Folk paintings and Indian folk art.
Indian folk art prints include the various art forms of India that have been practiced since ancient times. Phad paintings, warli paintings, madhubani paintings, patachitra, tanjore work, kalamkari, pata paintings, pithora, etc are some of the famous folk art paintings in the country.
Folk art prints include such pictorial depictions as the Hindu deities like Krishna, Ram, Shiva, Durga, Lakshmi and Saraswati. There are madhubani paintings of the sun, the moon and religious plants like tulsi are widely painted as also royal courts and social events like weddings.
Tanjore art in the south has brightly colored art prints such as Siva, Parvati, Rama, Krishna, Lakshmi, Saraswathi and other gods and goddesses in different forms. While events from the mythologies such as the coronation of Ram is a typical Tanjore style of painting there are other animal and human figurines like man and woman, animals, etc depicted on these paintings also.
In Phad painting, the art prints of heroes in history such as Goga Chauhan, Prithaviraj Chauhan, Amar Singh Rathor, Tejaji, and others are common. In contemporary times, the stories from the life of Papuji and Narayandevji are mainly depicted.
The Warli paintings of Maharashtra have some common folk art prints of marriage god, Palghat, his horse along with the bride and groom. These paintings are special as they depict marriage ceremonies. Another popular theme of this form of folk art is the dance that men and women perform in circles and spirals around a musician.
The Pata Chitra paintings have paintings that are inspired by the Bhakti movement. The various folk art prints depict the story of Radha-Krishna and Jagannath in bold colours. Today, they are also used in the decoration of ganjifa playing cards, masks and toys.
Folk art designs are diverse in India and reflect our rich cultural heritage. The other forms of folk art paintings include Rajasthani Painting, Pahari painting, Jain art at Gujrat, Warli paintings of Maharastra, Thakga, Monpa , etc which are equally fascinating and charming.
Indian folk paintings are a true example on an artistic expression that can hold perfect spot in your home or office. So go ahead and take a plunge into the magical world of Indian Art.
For Urgent Assistance : Email:query@craftsinindia.com
Painting
Explore the colors and images of incredible India at this rare online gallery of Indian Paintings, consisting magnificent Madhubani paintings, mysterious Warli paintings, Patachitras, Tribal Paintings, Thangka Paintings and also contemporary Indian art paintings.